HISTORY OF GREGORY BAUTISTA BAMBO JR<![if !vml]>

<![endif]>
<![if !supportEmptyParas]> <![endif]>
A child of the Great Depression and victim of California's 1933 revision to the racial miscegenation law, his custody in a mixed marriage divorce was awarded to the parent the child resembled the most in appearance and color!  As a result, at the age of six months, Gregg was raised by his father and three compadres' Later years reflected a series of foster homes in Los Angeles, San Francisco, Guadeloupe and Salinas, California.
At the age of nine, in order to personally contribute to his upbringing, Gregg got his first job as a dishwasher, standing on a stool over a large basin with dishes stacked taller than he was, (This was before dishwashing machines).  A short stint as a pin setter in a bowling alley, when pins were positioned by hand, was cut short when he decided drunk bowlers and a hurtling bowling ball was a dangerous way to earn IO cents a line!  A job as a prep boy in an auto body shop would be the basis for a hobby in later adult life.
At age 12, he rejoined his father in Salinas.  While attending school, he worked seven evenings a week, at 75 cents an hour, as a gas station mechanic and attendant and did double duty, on weekends and school vacations, as a lettuce dry packer in the fields during the day and station attendant at night.  Gregg's work ethic, and appreciation of money earned, was learned at a very early age.
Having lived and shared his bed in labor camps most of his young working life, when approached by a Navy recruiter after graduation from high school, with the offer of his own private bed, all the food he could eat and a chance to see the world, with a wage of $75 a month to boot, the 19 year old readily agreed!  His first Navy assignment after boot camp training in San Diego, because of his ethnic origin, was with the steward corps doing household chores in an Admirals mansion!<![if !vml]>

<![endif]>
<![if !supportEmptyParas]> <![endif]>
Gregg had come a long way from labor camp to mansion and because he was without a role model, he was satisfied with his position in life.  Gregg didn't just do his job, he did it better than anyone else and an astute Division Officer recognized his potential and transferred the youngster for a fifteen month tour at the Navy's elite Electronic Technician School at Treasure Island, California.
In the mid fifties, the U.S. Navy was under congressional pressure and public mandate to integrate their Officer corp.  The Army and Air Force had done so shortly after World War 11.  As a result of the Navy's minority search effort to comply with the mandate in 1956, Gregg was tested and accepted into the Naval Aviation Cadet Program.  He went through initial flight training at Pensacola, Florida receiving his Officer's Commission as an Ensign and Naval Aviator Wings at Corpus Christi, Texas in 1957, thus becoming the Navy's first Filipino/American Naval Aviator.  His first duty assignment was with an Anti-Submarine Warfare Squadron where he served as the tactics officer and co-authored a modern antisubmarine warfare tactical doctrine.
Now a Lieutenant, Gregg subsequently served for two years as a Flight Instructor and Material Officer for a combat replacement squadron at Coronado, California and then in 1963 made his first ships staff tour aboard the aircraft carrier USS Midway.  It was at sea that he was notified of his accelerated promotion to Lieutenant Commander, leapfrogging over 10,000 contemporaries, Academy graduates and seniors.  On this and later a second deployment (The Vietnam War had begun) the commander flew as a Carrier-On-Board delivery pilot and performed as Assistant, Navigator and Senior Underway Watch Officer (000).  His Midway tour was highlighted by his being awarded the "Department of the Navy Achievement Medal" in recognition of his shiphandling and Task Force Maneuvering performance in a combat environment - an unusual award for an aviator!<![if !vml]>

<![endif]>
<![if !supportEmptyParas]> <![endif]>
In 1965 Gregg transitioned from fighter pilot to low level attack and flew the Douglas A3 "Skywarrior" aircraft (The Navy's largest combat plane to ever land aboard an aircraft carrier) with Heavy Attack Squadron 10, based at Whidbey lsland, Washington.  He flew and served as squadron Administrative Officer during the brief and tragic USS Forrestal Vietnam deployment (132 lives and 52 aircraft lost) and later as the Operations Officer on a Mediterranean cruise aboard USS Saratoga.  It was during this tour that he experienced a catastrophic engine disintegration and, during final approach for an emergency landing, lost his remaining engine thereby becoming the first pilot to ever "deadstick" the navy's largest carrier based bomber to a safe landing!  Gregg flew 132 missions during the Vietnam War.
<![if !vml]>

<![endif]>
In late 1968, recently promoted to full Commander, he resigned his Regular Commission, accepted a Reserve Commission and shortly after his release from active duty was hired by Western Air Lines as their third minority and first Filipino-American pilot'
<![if !supportEmptyParas]> <![endif]>
With Commander Bambo's impressive record of performance and combat flight experience, including over 800 accident free day & night landings on aircraft carriers to his credit, he was recalled by the Navy and selected for the top slot to organize the Naval Reserve's first A3 Skywarrior squadron and at the age of 33 became the youngest Commanding Officer of a combat squadron in the United States Navy!  Considering he did not have a college degree and began his career as a subservient enlisted seaman recruit, his rapid rise through the Enlisted and Commissioned Officer ranks in competition with college and Naval Academy graduates is quite an achievement.
<![if !supportEmptyParas]> <![endif]>
<![if !supportEmptyParas]> <![endif]>
<![if !supportEmptyParas]> <![endif]>
<![if !supportLists]>o <![endif]>Navy Captain Bamboo retired from the United States Navy in 1975, but in title only.  He was recognized by the Air Line Pilots Association as "The Professional Pilots Professional".  Westem Air Lines promoted him to his second" Captain title in 1986 and designated him a company "Check Pilot, responsible for insuring the quality of his contemporaries, in 1987.
<![if !supportLists]>o <![endif]>Western Air Lines merged into Delta Air Lines in 1988 and Captain Bambo continued his career in a Delta uniform commanding Boeing 767's coast to coast and from Mexico to Alaska.  In accordance with federal law, Captain Bambo retired for the second time, on his 60h birthday in 1995, but not before being cited for outstanding performance, i.e.  "Best flight check ever performed at Delta Airlines" by the Federal Aviation Administration during his final FAA checkride.  When he is not flying across the country, he occupies his Spam time satisfy his passion for tennis, golf, skiing and enjoying the restoration of old cars.
<![if !supportLists]>o <![endif]>Gregg' second generation son achieved a goal their high school graduate father only dreamed of.  Both are college graduates i.e. Oldest, Gregg III - University Of California- Santa Cruz (Philosophy) & Golden Gate University, School of Law, (Lawyer), living in Sao Francisco; Youngest Brad& - University of California- Los Angeles, (Cinematography & English), living in Los Angeles, California.
<![if !supportLists]>o <![endif]>Remarried, Gregg lives in Salt Lake City, Utah with his wife, the former Marie Dufresne of St Sauveur, Canada', previously Canada's Downhill Ski Champion, World Cup competitor and " Female Athlete of the Year".
<![if !vml]>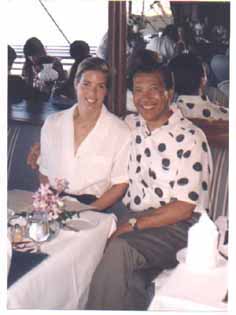 <![endif]>
His personal philosophy - Advice my uneducated but wise father gave me- "Be proud of your heritage and do your best.  Be positive and good things will happen!  Gregg can only add- "Your friends are precious.  Don't betray or forget them".