<![if !supportEmptyParas]> <![endif]>
the Steward and
the Captain's Daughter
<![if !supportEmptyParas]> <![endif]>
LegaspiBurdeos Publishers
68 Colony Park Circle
Galveston, Texas 77551
(409) 741-8778
<![if !supportEmptyParas]> <![endif]>
All rights reserved.  Revised and printed in the United States of America.
First edition 1999, ISBN 0-9671151-0-8 (Hardcover, Barnes&Noble.Com)
Second edition 2001, ISBN 0-9671151-1-6 (Paperback)
Edited by
Yvonne M. Turner
<![if !supportEmptyParas]> <![endif]>
<![if !supportEmptyParas]> <![endif]>
Cover designed by
Jordin Isip
Dedication
<![if !supportEmptyParas]> <![endif]>
This book is dedicated to the thousands of Filipino citizens, after World War II, who enlisted and served in the Navy and Coast Guard of the Armed Forces of the United States of America during war and peace.
<![if !supportEmptyParas]> <![endif]>
<![if !supportEmptyParas]> <![endif]>
Preface
<![if !supportEmptyParas]> <![endif]>
    An escape from the searing, rust-laden hotbed that was their country. Such were the thoughts embedded in the minds of Filipinos who yearned to follow the tens of thousands of American servicemen who had boarded cruisers bound for "the States" after the surrender of Japan.
    1955. A young Filipino who idolized Americans—from the GIs who recaptured his hometown, to Frank Sinatra and his role in the film "Anchors Aweigh"—yearned to travel abroad. To some, happiness lay far away from this island country, across an endless ocean of dreams and perceptions, and amid the cherry red Mustangs, movie debuts, and white picket fences of America.
    Like thousands of other young "Pinoys" of the time, Ray scrambled from Sangley Point on the island of Luzon to enlist, as a Filipino citizen, in the U.S. Coast Guard. Seven and a half years later, he found himself in an enviable position, a place of privilege where many of the thousands of other Pinoy "swabbees" wished to be, as a steward to the Group Commander of the U. S. Coast Guard Base in New York City.
    At the post, Ray was in the lowest ranking specialty group, but most powerful, enlisted man at the base. With absolute trust, Ray had access to the Captain's quarters, and, unbeknownst to the commander himself, to his only daughter.
    Kim Bullard, some say, was endowed with three remark-able qualities: the charm and grace  of  royalty;  a  genuine, universal curiosity unstifled by custom, common perception, nor tradition; and her natural looks, which only served to enhance her gracious manner. The latter hooked Ray. The former allowed him to go willingly.
    When Ozzie & Harriet provided the ideal family role models, and young, blue-eyed, freckled-face girls drooled over Fabian and Tab Hunter, Ms. Kim took a liking to and, eventually, fell in love with a mess hall steward who sharply resembled the "enemy" of the South Pacific twenty years earlier.
<![if !supportEmptyParas]> <![endif]>
                                                Ramon R. Burdeos
                                                Screenwriter
<![if !supportEmptyParas]> <![endif]>
Prologue
<![if !supportEmptyParas]> <![endif]>
    The captain stared at me with disdain. "Goddamnit, Burdeos! What's going on here? How the hell did you have the audacity, the nerve—the nerve to pursue my daughter?"
    "Captain, sir—we're in love."
    "What?"
    "Captain, sir—"
     "Burdeos, I want you to end this nonsense now! I mean now! Is that clear?" he said, emphatically, while pounding his desk repeatedly with his fist.
    I was shocked and intimidated. I desperately wanted to turn around and walk away, but fortunately, I still had the fortitude to face him. Otherwise, I would've spent my time in the brig, and that was not the place where I wanted to be.
    He continued to speak. "Burdeos, I can't believe that this has been going on behind my back."
  "Captain, sir—" 
    He suddenly rose from his seat. I had to stop talking. He walked to other side of the desk, frowned, and then force- fully pounded the desk again.
    "I am still puzzled. Even though you knew she's my daughter, despite that, you still went ahead and pursued her."
    "Yes sir— I mean—"
    "You are arrogant! Simply arrogant!"
    "I'm sorry, Captain, sir. I'm just being truthful."
    "You know, Burdeos, many stewards have worked for me before, but I never dreamed of any one of them doing such an outrageous act—until you came along. Doesn't that bother you?"
    "I couldn't help it, Captain, sir."
    "That's a downright poor excuse!"
    "I'm truly in love with your daughter, sir."
    The Captain returned to his seat, took a deep breath, and then stared squarely at me again. "Burdeos, you are a smart man. Did it ever occur to you that you're not using a good judgment?
    "Yes, I thought about it and analyzed it, carefully. But in the end, I was overcome with emotion and pursued her."
    "For Christ's sake!"
    "That's my honest answer, Captain, sir."
    "Burdeos, you are making a big mistake."
    "I am sorry, sir.  I love your daughter…"
    "You keep telling me that!"
    "Because I do."
    "Let me tell you, Burdeos, my wife hates your guts!"
Chapter One
<![if !supportEmptyParas]> <![endif]>
Before Coming
To New York
    I was born on January 30, 1936, in the town of Butuan on the island of Mindanao in the Philippines. I have two sisters, Felicidad, the oldest, and Ramona, the youngest. My father, Ramon Atega Burdeos, was the deputy governor of Agusan province, and my mother, Manuela Mabasa Legaspi, a former beauty queen of her province, was a school-teacher who hailed from Kalibo, Capiz.
    My native country, the Philippines, was once a colony of Spain, beginning in 1521 when Ferdinand Magellan, a Portuguese explorer, landed on one of the islands and claimed it under the name of King Philip of Spain. The rule ended after the Battle of Manila Bay on May 1, 1898, when the fleet of Commodore George Dewey defeated the Spanish defenders of Manila. One of Commodore Dewey's seven warships was a Coast Guard cutter, the McCulloch, which was, at that time, called Revenue Cutter McCulloch. Thereafter, Spain ceded the Philippines to the United States of America under the Treaty of Paris.
    When World War II began in the year 1941, I was five years old. I have a vague memory of the invasion of my hometown by Japanese soldiers. But, it wasn't until I turned eight that I understood and became afraid of war. This fear stemmed from events that occurred when civilians would become caught in the crossfire of the Japanese soldiers and Filipino guerrillas commanded by Colonel William Fertig. It was an ugly and deplorable situation.
    Four years later, we were set free when General Douglas MacArthur's command of the Army, Navy, Marines, and Coast Guard stormed the islands and defeated the Japanese invaders of the entire Philippines.
    After the war, my father's family became active in politics. My dad received the appointment of assessor for the province of Agusan. Elisa Ochoa, his stepsister, successfully earned a seat in Congress as the first woman in the country to do so. And his half brother Romulo A. Rosales, became mayor of Butuan. In less than a year, our country became a fully independent nation when the United States granted it sole sovereignty on July 4, 1946. Meanwhile, I continued to obtain an education.
    In March of 1952, I graduated from Father Urios High School, a Roman Catholic educational institution managed by Dutch priests. A couple of months later, I went to Manila to enroll at the Mapua Institute of Technology where I pursued courses in the College of Engineering. On July 5, 1954, while reading the newspaper during a study break, I learned that the U.S. Navy, via the naval station at Sangley Point in Cavite City, was recruiting Filipinos.
    By then, I was already interested in a career in the U.S. Navy. Much of this inspiration had come from watching Frank Sinatra in the movie, Anchors Aweigh. I loved the American sailor's uniform and the idea of seeing the world. This desire to travel beyond the Philippines was something exciting for an eighteen-year-old guy like me.
    As did thousands of Filipinos between the ages of 18 and 30, I wrote to the recruiter in order to apply. The response from him came in the form of a calling card that would allow me to enter the naval base.
    The fact that the U.S. Navy was recruiting Filipinos had come as a big surprise to me since U.S. law clearly specified one requirement: to join the Armed Forces of the United States of America, an applicant must be an American citizen or a legal immigrant.
    We fit neither category. Nonetheless, we were not only glad, but also ecstatic that we were allowed to apply.
    After receiving my calling card, on October 10, 1955, I reported to the Navy recruiter at Sangley Point, where I took the basic aptitude test in the morning and received a complete physical examination in the afternoon. By the end of that day, 102 Filipinos had passed the basic requirements for enlistment, and, proudly, I was one of the fortunate ones. I became somewhat disappointed, however, when the Navy took seventy recruits and the Coast Guard took the remaining thirty-two, which included me.
    A recruiter helped resolve this minor setback when he told me that the two services were basically the same. They even wore similar sailor uniforms, except for the addition of the Coast Guard shield. Now convinced that the two services were closely related, I went ahead and enlisted in the U.S. Coast Guard for six years.
    The following day, we set sail aboard the USNS Barrett, bound for California. This vessel also carried hundreds of active-duty military personnel, and some military dependents, returning home from their overseas tour of duty.             
    During the first few days across the Pacific, I suffered from extreme seasickness. I'd had no idea that the mild feeling which had disturbed me whenever I crossed from one island to the other in my native country, would assault me in such a devastating manner.
    As I spent my afternoons heaving the remains of morning chow, I began to wonder why I had enlisted in the first place. Perhaps the details regarding our basic duties, as relayed to me by Ruben Bostillo, my friend and fellow recruit who had originally sought acceptance into the Coast Guard, heightened the effects of my condition.
    Within three days, however, I made some strides to re-duce my seasickness. Thankfully, the "rocking and rolling" didn't seem to affect me as much anymore.
<![if !supportEmptyParas]> <![endif]>
<![if !vml]>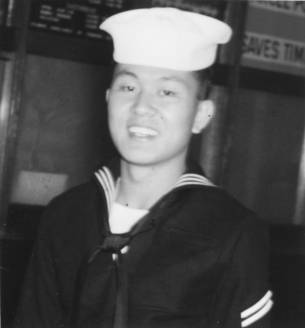 <![endif]>
<![if !supportEmptyParas]> <![endif]>
Recruit Burdeos
<![if !supportEmptyParas]> <![endif]>
Three weeks later, we arrived in San Francisco. When I saw the Golden Gate Bridge, tears formed in my eyes as I realized that I was finally in America, the land of many opportunities. However, I was prepared for a lukewarm reception. Even though America welcomed, with open arms, immigrants from different European countries, Americans themselves were wary of Asian immigrants. Therefore, I braced myself for the possibility of discrimination.
<![if !supportEmptyParas]> <![endif]>
<![if !vml]>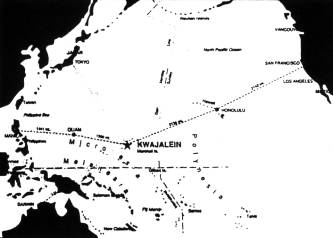 <![endif]>
<![if !supportEmptyParas]> <![endif]>
Voyage from Manila to San Francisco aboard USNS Barrett
<![if !supportEmptyParas]> <![endif]>
     The USNS Barrett docked at the Embarcadero by dawn, and a chartered bus immediately took us to the Coast Guard Recruit Training Center, on the tiny place called "Government Island," in Alameda, California.
    We began our basic training, known as "boot camp", the first week of December 1955. My assignment to Company K-15 brought the total number of men in it to thirty Filipinos and four Americans. An overview of our future duties included spending many continuous days on patrol in the high seas for search and rescue and for maritime and defense duties, plus patrolling the North and South Poles on ice-breaking missions, which last many months. Therefore, boot camp, overall consisted of formal classes in a variety of areas: basic skills and knowledge in seamanship, care of uniform, military drill, visual signaling, personal hygiene, fire fighting, and military discipline.
<![if !supportEmptyParas]> <![endif]>
<![if !vml]>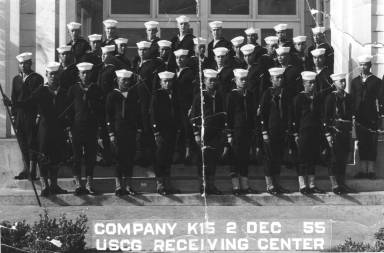 <![endif]>
<![if !supportEmptyParas]> <![endif]>
  U.S. Coast Guard Training Center
Alameda, California
<![if !supportEmptyParas]> <![endif]>
    After boot camp, we remained at the center for an additional four weeks of special training as "stewards", men who work for the officers at food service facilities, both afloat and ashore. We received instructions in food preparation, the operation of utensils and food service equipment, safety, sanitation, procurement of  food  items, receiving and storing food items, menu planning, inventory management, and paper work management.
    On March 1, 1956, we completed the steward training, and I immediately reported to Coast Guard cutter, the Lilac (WAGL-227), a coastal buoy tender based in Gloucester, a small New Jersey town, outside of Philadelphia across the Delaware River. Here, I served under the command of Lt. John Midgett, one of the descendants of the legendary Midgetts of the original Coast Guard members from the outer banks of North Carolina.
    Two years later, I was transferred to Coast Guard cutter, the Unimak (WAVP-379), based in Cape May, New Jersey.
<![if !supportEmptyParas]> <![endif]>
<![if !vml]>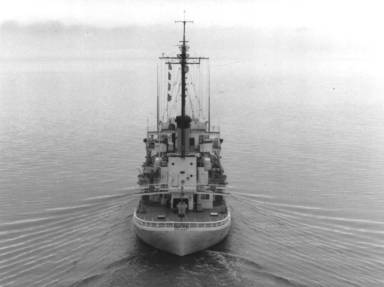 <![endif]>
<![if !supportEmptyParas]> <![endif]>
Cutter Unimak
<![if !supportEmptyParas]> <![endif]>
Commissioned in 1943 as a Navy Seaplane Tender, it had served World War II as part  of  the  Atlantic  Theater  war effort. After a three-year tour aboard the Unimak, I was sent back to Gloucester, but this time to serve aboard the Zinnia (WAGL-255) beginning in the late 1960.
    Following two years of service aboard her, my next assignment haunted me for the next six years of my life. It led to what I considered "love affair", but to what others called a "transgression".
    On January 7, 1963, I was transferred to CG Group in New York City, where I reported to Chief Bill Seddon at the personnel office. He briefly reviewed my service record and then immediately took me to meet the executive officer, (XO) Commander Benjamin J. Kowalski.
    After a short meeting, the Chief subsequently took me to the commanding officer's (CO's) office across the hallway. As we entered the office of the legendary Captain Ross P. Bullard, the CO, he continued talking on the telephone, so we stood at attention and waited for him to finish. He appeared to be in his late forties, about five feet, ten inches tall, with gray hair and deep, baritone voice. His immaculately clean blue uniform sported a chest-full of ribbons and awards, mostly from World War II.
    When the CO finally finished his call, he took my service record from the Chief, who said that I was the new steward reporting for duty.
     "At ease, Burdeos," Captain ordered. "Welcome to New York."
    "Thank you, Captain, sir."
    "How was trip?"
    "It was fine, Captain, sir."
    "Good."
The Captain looked over my service record. "Do you know Tolentino?" he idly inquired, while flipping the pages of my record.
    "No, sir."
    "He's also a Filipino. He was my steward on the Casco. Good man, excellent worker."
    The Captain closed my service record and handed it over to the Chief. "Well, Burdeos, I don't have to suggest that you do a good job while you are in my command. I am convinced, based of my personal experience, which Filipinos always perform well. Unless you are the exception."
    "We take pride in our job, Captain, sir."
    "I have no doubt."
    "Thank you, Captain, sir."
     "You are excused."
    After this brief meeting with the CO, the Chief then ordered me to report to Petty Officer Givens in the wardroom mess. On occasion, Givens, a handsome black man over six feet tall, had been known to act aggressively. However, beneath that behavior, he actually was a kind man.
    I went to the second deck to report to him, and as I entered the door of the wardroom mess, Givens exclaimed, "Burdeos! Not you again! I thought I got rid of your ass long time ago."
    Givens had been my supervisor on the Unimak when we were stationed together in Cape May, New Jersey.
    "Well, I'm back!" I said.
    "How in hell can I get rid of you?"
    "You can't. You like me because I'm a good worker. And you know that very well, except…"
    "E-e-except when you're damn seasick."
    "You're right," I said as we laughed.
    "Hey, guys! Listen! One patrol we hit a hurricane on the way to Bermuda. Boy, oh, boy! Burdeos puked his ass off while clutching the commode. He turned pale, very pale! I thought he was gonna die," Givens reminisced with a big chuckle.
    "It's true. I was as sick as a dog. And you know what? There were more days like that to follow. I don't know how I survived. But I'm still here! I have my feet on the ground, now, and you can expect outstanding work from me, Givens."
    "Yeah, yeah, tell me about it." He turned to the other guys and said, "Meet Burdeos, fellas."
    As I was being greeted warmly by the other stewards, I instantly noticed the irony that all of us working for Givens
were Filipinos. Yet, each of us had come from different provinces in the old country and spoke distinctively different dialects, a common situation in such cases. Filipinos have so many dialects that one has to teach Tagalog, the national language, or has to study English in order to communicate with other people in every region of the country.
    Two of these Filipino stewards, Casallo and Cuaresma, had earned college degrees before enlisting in the Coast Guard. Two others, Palao and Nierva, were college students in Manila. These are merely a few of the majority of Filipino recruits who had some form of college education prior to enlisting in the Navy or Coast Guard.
    After the usual and uneventful welcoming ritual for a steward new to the group, Givens sat down with me and talked about general duties and responsibilities. "Burdeos," he said. "The CO is your worry."
    "Okay."
    "Clean his stateroom in the mornings, shine his shoes, and take his dirty laundry to the cleaners."
    "Okay."
    "And make fresh coffee in his office in the morning and afternoon. Then after you do all that shit, you've got to help the other guys in the galley."
    "That's it?"
    "Yup! Unless you want more?"
    "No, thanks."
    "Don't worry, Burdeos. When other commands in the area need volunteers for their officers' functions, I will volunteer your ass. They're always lookin' for volunteers. I'll put your name on the top of the list."
    "You're the boss," I said.
   Givens suddenly stopped talking briefly and pondered.
   "Just remembered," he said. "Burdeos, you've got to wear your white jacket all the time while working in the ward-room. I want it spotless. No dungarees. Get it? The CO is pretty 'gung-ho' on this shit. And one more thing, learn to play that damn thing, the xylophone!"
     "What xylophone?"
    "Casallo will teach how."
    "Okay boss."
    "Any questions?"
    "No, I don't have any."
    "Okay, take today off, and I'll see you tomorrow. And don't forget, now! White jacket for working uniform."
    "I hear you, boss, loud and clear."
    After Givens left, I sat down with the other guys. We talked about everything in general: how we were getting along in the Coast Guard; what the other boys were doing;  who was promoted or busted; who was married or getting married, and who had been dumped. We held each other in mutual high regard since most of us had merely been teen-agers when we left the Philippines, thousands of miles away, and landed in the "land of milk and honey."
    For that simple reason, we continued to reach out to others like us. Whenever we'd meet another Filipino, either in the Navy or Coast Guard, we immediately become friends. When we had any problems or concerns about our work, we could easily relate to one another.
    Undoubtedly, one major problem revolved around assimilating ourselves into the white community. Even though whites discriminated against Filipinos in subtle ways, most of us understood what was going on. Paradoxically, whites could accept the common practice of grouping Filipinos with blacks; however, at the same time, the whites became edgy whenever Filipinos attempted to mix with them. Subsequently, Filipinos often times found themselves caught "in limbo". In spite of that ongoing situation, our biggest concern naturally centered on meeting single women of our own race, a rare event, indeed.
    After I had become acquainted with the rest of the stewards, each of us left and went our separate ways on liberty.  I headed downtown in order to feel, for the very first time, the vibration of city life in the world's biggest metropolis, New York City.
----------------------------------------------------------------------
Can't Take My
Eyes Off Of Her
<![if !supportEmptyParas]> <![endif]>
<![if !supportEmptyParas]> <![endif]>
    January 25, 1963, I was ordered to stay aboard to work later that evening, an order that cancelled my liberty pass. Captain Bullard and his wife were coming for dinner, and as the Captain often hosted his family or friends, it would turn into an evening of candlelight and silverware, the type usually found on dinner tables of those with finer taste.
    At a quarter to seven in the evening, I waited at the door for the arrival of the Captain and his wife in order to greet them and to assist with their overcoats. Givens came by to check since he expected me to appear "shipshape" in my white jacket, one similar to those worn by butlers working for affluent families. No doubt Givens' excessive concern was a result of the Captain's strict enforcement of uniform standards, which he routinely carried out without fail during his Friday inspections.
    At ten minutes to seven, the Captain arrived at the door with his wife and a young lady.
    "Good evening, sir," I said.
    The Captain took off his overcoat and handed it to me. He turned to his wife, who was in the process of removing hers, and said, "This is Burdeos, our new steward." 
    "How are you, young man?" Mrs. Bullard said it kindly.
"You must be from the Philippines, too?"
    "Yes, ma'am."
    "I admire you boys from the Philippines," she continued.
    "Thank you, ma'am."
    At that point, one of the officers came over to talk with Mrs. Bullard, so I turned around to assist the young lady accompanying them. She removed her overcoat, but continued to hold it.
    "Ma'am," I said. "May I take your coat?"
   She looked at me curiously, smiled, and then said, "Thank you."
<![if !supportEmptyParas]> <![endif]>
<![if !vml]>

<![endif]>
The Captain's daughter
<![if !supportEmptyParas]> <![endif]>
    Her beauty briefly mesmerized me. Finally I managed to utter something to the effect, "You are welcome ma'am."             She turned around to join the Captain and Mrs. Bullard. Then the Captain put his arm around Mrs. Bullard, and led the way into the dining room with the young woman following. Immediately, the other officers attending the dinner party joined them. 
    I rushed back to the galley and asked Cuaresma the identity of that girl.
    "You don't know who she is?" Cuaresma responded.
    "No, I don't…maybe if you refresh my memory."
     "She's their daughter!"  
    "Daughter?" I exclaimed.
    "She is beautiful, isn't she?
    "Oh yes! I hastened to say. "Definitely gorgeous."
    "I think she is going out with a civilian fellow," Cuaresma said.
    "Is that right."
    "Why are you interested?" he demanded
    "Oh, just curious," I fibbed.
    "Curious, my foot!" he asserted.
    "Oh, well."
    "Don't tell me you're attracted to this girl?" he said
as he chuckled.
<![if !vml]>

<![endif]>
The Captain's steward
<![if !supportEmptyParas]> <![endif]>
    "Not only attracted to her, I'm in love! I cried.
    Cuaresma, with a grin on his face, shook his head and turned around to the other stewards. "Hey, guys! Guess what? Burdeos is in love with the old man's daughter. I can't believe it. It's only the first time he's laid eyes on her, and he's already in love!"
    "She's simply a beauty," Casallo interjected.
    "She's nice and very friendly," Nierva added.  
    All of a sudden, Givens barged in and cried, "What the hell are you talking about now, guys?"
    "I told the guys that the CO's daughter is very beautiful, and I'm mesmerized by her," I said.
    "Whoa! Whoa! What's the f—king word again?"  Givens asked.
    "You mean mesmerized?"
    "Goddamn, Burdeos. Where did you get that big f—king word?"
    "Webster's Dictionary."
    "Funny. Funny! Maybe if I pulled your f—king liberty, you ain't gonna be funny anymore," Givens threatened.
    "Just kidding, boss."
    "NOW, you're talking," he emphasized.
    "The word simply means: she got my attention and I'm hooked."
    "That's better," he replied.
    "Thank you, boss."
    "And you better stop looking at her," he advised.
    "I'll try not – "
    "Get back to work," he commanded.
    "Yes, boss."
    We sat down for a short break before we began to serve dinner. Cuaresma sat next to me and whispered, "Don't you ever get tired of looking at Kim?"
    "Kim?"
    "Yes, the Captain's daughter," he said.
    "That's her name?" I queried.
    "Yes. Short for Kimberly."
    "Pretty name," I reflected.
    "So, what are you going to do now that you're in love with the old man's daughter?" he pressed.
    "Hope for a miracle that someday I will meet her in a friendly atmosphere, and take it from there," I replied complacently.
    "That's wishful thinking, Burdeos."
    "Maybe, but you never know."
    "Burdeos, she's not just an officer's daughter, she is – remember now – the… Captain's daughter," he retorted.
    "I know, I'm not blind."
    "The man you serve meals to and shine his shoes for.  The man whose stateroom you clean. I mean, any man who lets you clean his dirty laundry is not going to let you touch his daughter," he declared.
    "What's wrong with that?"
    "Plenty."
    "Why?" I continued.
    "She is not going to get involved with an enlisted man, especially not a steward. No offense to you, personally," he hastened to add.
    "I see. I know you want me to be realistic."
    "That's precisely what I'm saying," he said in a relieved fashion.
    "I get it," I assured him.
    "And you know what?" he added.
    "Yeah. What?"
    "I've heard Bullard is a typical candidate for admiral, and it may happen soon," he confided to me.
    "Is that right?"
    "Think about it. He was the battalion commander of all cadets during his senior year at Coast Guard Academy. He made all the promotions up to this point without a hitch. That tells you something, doesn't it?"
    "That's big stuff," I commented.
    "Yup. So you know he's been groomed for admiral, if not for the top spot in the Coast Guard," Cuaresma said. "But, of course I'm only speculating. I'm just putting together all the details regarding what I've heard about him."
    "That makes sense to me," I concluded. "You could be right on the money."
    Givens lumbered in and said, "Enough of the bullshit, guys. Let's get ready to serve the dinner."
    At that point, Casallo, the other steward sounded the miniature xylophone, a signal that dinner was about to be served in the wardroom. Subsequently, Givens stepped out from the galley and announced to the officers and guests, "Dinner is served."
    As they gathered around the dining table, the Captain sat down first, and then the rest followed, with his wife seated at his right, his daughter to his left, and the remaining officers down the line according to rank.
    Palao began to serve the Waldorf salad, and Cuaresma followed to fill the water glasses. While the Captain's daughter was enjoying her salad, I glanced at her at every opportunity. At one point, she unexpectedly glanced back. Embarrassed that I'd been caught, I immediately turned around and walked away.
      When it was time to serve the steaks, I was assigned the     
task. I started first with the Captain's wife, and then I went to the other side of the table to serve his daughter, where-upon I became unusually excited. As my heart beat faster and faster, I leaned forward to offer her the platter of steaks. She picked up the serving fork, took one, and then glanced at me while graciously saying, "Thank you."
    Shyly, I nodded and then proceeded to serve the Captain and other officers. Once finished, I returned to the galley while I continued to think about my brief exchange of eye contact with the Captain's daughter.
    Cuaresma approached me. "I saw that look between you and the old man's daughter," he said and cautioned. "Watch out, friend."
    "Did you really?" I asked anxiously.
    "Damn right, I did!" he heartily responded.
    "Did anyone else, you think?"
    "No. I don't think so."
    "Good," I reflected.
    Cuaresma's remark comforted me because it meant I had not dreamed that minute, but memorable incident. For me, looking at her was simply a natural reaction to her beauty. She was completely captivating, and I was in love with her from the very first moment I had seen her.
    Givens interrupted my reverie. "Burdeos, go out there and stay there in case anyone wants anything else."
    "Yes, boss."
    I took my place directly opposite the CO's daughter. Like a night watchman in a crow's nest, I was perfectly positioned to look at her at any time. Givens had, unknowingly, done me a big favor.
    Without a doubt, Kim was fully aware of my gaze upon her. I was gratified that she exhibited no objections.  On  the
contrary, she constantly glanced at me whenever she had an opportunity. In spite of the risk, which we incurred with her parents being there, we managed to continue, assess each other without being caught.
    When all had finished eating the main course, I collected the dirty dishes. Nierva, began to serve dessert while I went back to the galley to help the other stewards with the work. 
    Within half-an-hour later, we had completed the cleaning up most of the galley as the officers and guests, with plenty of laughter, continued their lively dinner conversation. We, therefore, took another short break.
    Appearing "uptight," Givens checked the clock, shook his head, and then murmured, "I wanna get out of here."
    We all looked at him, and Cuaresma said, "Go ahead boss, we can handle it."
    "No, not with the old man still here."
    "How about if I take off now since most of the clean- up is done?" Nierva asked. 
    "I tell you what fellas, since there's nothing much to do, you married guys shag ass," Givens replied.
    "Boss, you're okay," Palao cheerfully responded.
    "Don't butter me up, I might change my f—king mind. Go hit the road, men."
    The other three guys hurriedly took off on liberty. And out in the blue, Givens sat next to me and said in a low tone of voice, "Burdeos, you know you're playing with fire here, my man."
    "What do you mean?" I asked while trying to appear innocent.
    "I'm no dummy. I've seen you looked at the old man's daughter all the time; she's doing the same f—king thing."
    "Yeah," I acknowledged.
    "Look, Burdeos. Ain't my f—king business. But I'm warning you, once you get caught, the old man is gonna burn your brown ass. And that's no shit! I don't want it to hap-pen to you. I know I pick on your ass once a while, but I got no desire to get your ass in trouble. Get it?" he said.
    "Thanks, boss, I appreciate it. I'll be extremely careful not to get caught," I replied.
    "That ain't gonna work. Too many eyes looking at your ass every time you make the move. Do the goddamn thing outside, my man."
    "I …will," I said, hesitatingly.
    "Good."
    Unexpectedly, the Captain entered the galley, so Givens stood immediately to greet him.
    "Givens, my family enjoyed the dinner," he said. "Thank you, and pass the word to the boys: my compliments to the cook."
    "Yes, sir, Captain," Givens proudly said.
    On the double, I left the galley and went to retrieve the overcoats in order to meet the company at the rear door. The Captain came first, and I held his coat for him to put on. Then, fortunately for me, he took his wife's coat in order to help her into it. As a result, I offered his daughter hers and held it for her as she put it on. Just being that close to her was great!
    As she was leaving, I watched her closely and heartily wished that she would look back as she began to descend the stairs. To my amazement, she glanced back and smiled. No matter the long hours I had worked that day, her refreshing smile made me forget that I had been denied liberty. I was left remembering it to be the most wonderful evening I could ever recall.
<![if !supportEmptyParas]> <![endif]>
<![if !supportEmptyParas]> <![endif]>
That's all folks!
<![if !supportEmptyParas]> <![endif]>
<![if !supportEmptyParas]> <![endif]>
<![if !supportEmptyParas]> <![endif]>
<![if !supportEmptyParas]> <![endif]>
<![if !supportEmptyParas]> <![endif]>
<![if !supportEmptyParas]> <![endif]>